I think a lot about death. It sounds morbid, but it's just something I do.
In my job as a medevac helicopter pilot it isn't uncommon to experience death. Sometimes it happens right next to me as blood pools and the life drains out of someone. Or when I see the small naked chest of the drowned child being thrusted upon again and again in hopes of revival. Or the wedding guests crumpled in a blood-streaked heap next to the overturned ATV and lifeless body of their friend. 
Other times my experience of death isn't so direct. It's the CPR in progress call where we are cancelled prior to landing because the patient expired. Or the entrapped car accident victim who died on scene. Or the patient we had hoped would recover who passes away days after we transported them to the hospital. 
I've experienced grief that has ranged from painfully visceral and all-encompassing when my dad died, to sadness at losing a grandparent, to as wistful empathy for a patient's family that I've never met.
Now I'm experiencing a new kind of grief. One of my heroes, Scott Dinsmore, died in a freak accident after being struck by falling rocks near the summit of Mt Kilimanjaro.
How do you grieve the loss of someone you've only met in person twice but had a profound impact on your life?
Scott Dinsmore Lived His Legend
Scott Dinsmore's site, Live Your Legend is about changing the world by doing work you love.
I got to know Scott via his initial Connect With Anyone course three years ago. As part of the course he introduced me to one of my now favorite quotes:
You are the average of the five people you spend the most time with. — Jim Rohn.
He encouraged us to reach out and connect with others and try things we might no otherwise do using his "three second rule".
Scott was a huge motivator for me to take the initiative and have the courage to share my story in my TEDx talk. Initially I wasn't accepted but was selected as an alternate. When I shared this with Scott he wrote,
"Wow Lorena! This is HUGE. So exciting to be an alternate. I was actually the second alternate, so the way I see it your odds are way better than mine :)"
Later when another speaker couldn't attend and I was put into the line-up I shared this news with Scott. He wrote,
"You are an absolute ROCK STAR Lorena!!! So freakin pumped for you. Reading this out in Thailand made this trip so much better.
I am so proud and excited for you. Keep us posted. The book Resonate is a great tool for helping build the presentation if you haven't already. It helped me a ton.
And most importantly HAVE FUN :)
Now be sure to celebrate. This is a major honor.
Hurray!"
All of Scott's emails were like that. He was genuinely thrilled at your success, delighted in celebrating with you and always included some useful tidbit or resource to help you. 
When we finally met in person, we shared a huge hug and big smiles. We celebrated the success of both of our TED talks. Scott's talk, How to Find and Do Work that You Love has been viewed over 2.7 million times.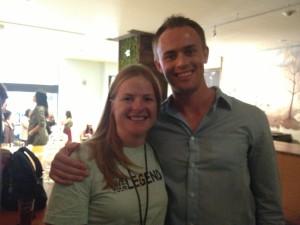 It's not a great photo, but Scott was touched that I wore his Live Your Legend t-shirt to the meetup. I felt a bit like a groupie but was proud to be a part of what he created and wanted to share it. 
Scott was just a normal guy, but a normal guy with extraordinary dreams. He wasn't afraid (no, that's not right, he was afraid, but he did it anyway) to share his fears or do things that were uncomfortable. Because he showed us that it wasn't always easy, we knew we could do it too. And we did.
If you look at the Facebook tribute page for Scott, you see story after story of Scott inspiring and encouraging people around the world. He created a global community of people committed to living their own legends. 
His final post was about taking time to disconnect so we remain connected. 
None of us expected or wanted Scott to disconnect permanently.
Allow the Waves of Grief to Wash Over You
When my Dad died, I was given this piece of advice: Grief will come in waves. Don't resist. Allow grief to wash over you.
Sometimes the waves are violent and crash over you encompassing everything in a not-knowing-which-way-is-up thrash. Other times a rogue wave will hit when you least expect it. A song. A smell. A first time visiting a place you had been with the person. Other times the waves are a more gentle ever-present lapping.
So how do you grieve losing a hero?
One wave at a time.
The pain of losing someone never goes away, it just hurts less often.
No More Somedays
Scott's light shined a little more brightly than most and we loved him for it. We did more because of him. We'll do more because of him.
Scott's death is another reminder of how important it is that we don't wait for someday but do the things we want to do today.
Yes, I think about death a lot. But I feel lucky enough to be reminded on each medevac flight that no one expects it to be their day to die. Most likely, I won't know when it will be mine. I'm sure Scott didn't think it would be his.
Thinking about dying makes you think about how you really live. Life is too short to wait until someday. Go live your legend.