Note: This is the third post in a series exploring C.R.A.F.T. , an acronym designed to help you create a life you love. Here are the earlier posts: Clarity and The 3Rs.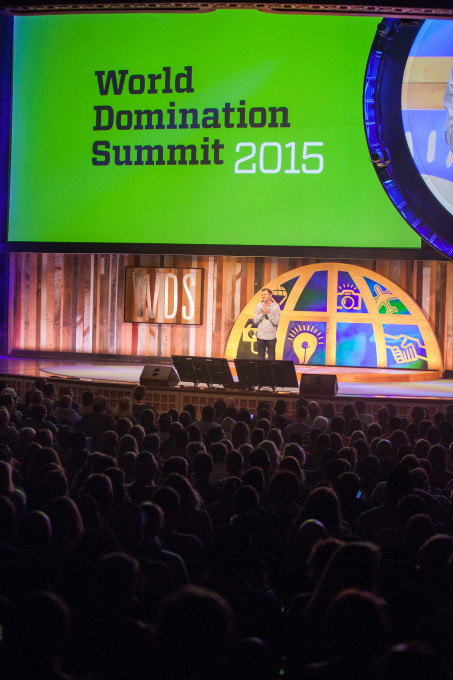 I recently returned from my favorite conference, World Domination Summit (WDS). Hosted by Chris Guillebeau, he and his team brings individuals together from all over the world for a weekend of inspiration and collaboration.
The themes of service, adventure, and community permeate every aspect of the event. There are world record attempts, charitable donations, big surprises, and multiple opportunities to interact in smaller groups of people with similar interests.
Sometimes WDS is referred to as the "quit your day job" conference but I like to think of it as the "think outside the box" conference where the status quo is rejected in favor of following your passion and creating a life you love.The question that guides the conference is, How do you live a remarkable life in a conventional world?
WDS attracts entrepreneurs, leaders, and change-makers determined to make the world a better place. The kind of people who will never tell you, "That's a silly idea," but rather offer to help or connect you with someone who can.
My kind of people, right?
These are also the kind of people who encourage cape wearing. Here I am with my friends in our best superhero pose (our capes resemble towels to help us blend in with non-superheroes):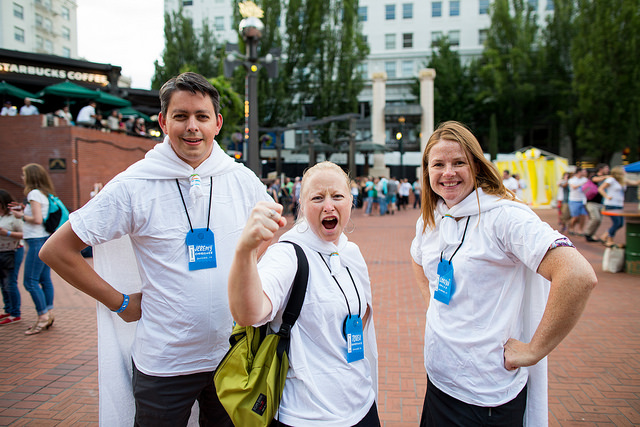 At the end of the conference everyone is filled with excitement about their new insights and ideas but as Rob Young and Pam Slim reminded us, success only occurs when you take action on your ideas.
Action and Accountability, are the A's for the C.R.A.F.T acronym I use to help people get unstuck and create a life they love. If you missed the earlier posts, C is for clarity and R is for resources, roadmap, and routines.
Lewis Howes was one of the WDS main stage speakers. I've been a regular listener of his School of Greatness podcast for years. In a recent episode Lewis interviewed Jay Papasan, a productivity expert who said, "The reason we set goals is to identify the actions we need to achieve them."
Exactly.
CRAFT a Life You Love: 7 Simple Steps to Take Consistent Action and Hold Yourself Accountable.
1. Make Your Goals SMARTER
Using the SMARTER acronym will help you develop wording for your goals. There are a few different definitions for SMARTER goals but I like this one:
Specific: Your goal needs to be concrete and clear. This is the who, what and why for your goal.
Measurable: Make your goal quantifiable. How much? How long? How often?
Actionable: Start each goal with a verb. Call. Write. Read. Learn. Email.
Realistic: Are your goals realistic in terms of the amount of time you can spend pursuing them?
Time-bound: When will you complete the goal?
Exciting: The goal needs to inspire you, otherwise it'll just feel like work.
Re-evaluate: Review your goals periodically to ensure they are still a good fit. Adjust as needed.
2. Create a List of Action Items
You've clarified your goals and used backward planning to create your major waypoints or milestones to your goals. Now break down the first waypoint into action items. What are the specific tasks you need to complete to reach it?
Action items are the steps in the "recipe" to achieve your goal.
A few months ago, I realized I've been putting some of my dreams on hold while waiting for "Prince Charming". Once I noticed what I was doing, I declared my desire to own a tiny house in Talkeetna, Alaska rather than waiting around to find someone who had the same dream.
Let's take this goal as an example. One of my waypoints was to determine the implications of the easement for the road that runs through the property. I had several questions I needed to answer: What are the restrictions related to this easement? How close to the road can I build? Is it possible to move the road? Each of these were an action item to reach the waypoint and ultimately determine if this particular piece of property was going to be a good fit for me.
3. Start Each Action Item with a Verb
Starting each action item with a verb will ensure that it is a specific and concrete task. Break down the tasks into smaller and more specific items until they feel doable. Rather than write, "Work on a blog post" make it more specific, "Write 500 words" or "Write for 20 minutes".  Rather than "Go to the gym" write, "Run on the treadmill for 30 minutes". Starting each action item with a verb also reduces the amount of decision-making you need to do once you begin and preserves your willpower.
For the property project, I wrote down, "Call the Department of Natural Resources" and "Call the Borough". These are more specific than "Research the easement."
4. Prioritize the Action Items
In what order do the tasks need to be completed? What is most important? Focus on the tasks that have the highest impact first. Don't get distracted with the urgent. Those items will always get done.
5. Cut Your Daily To-Do list in Half
It is often in the day-to-day where people get derailed. They get discouraged and overwhelmed by the amount of items on their to-do list. Cut the items on your to-do list in half. You can always add more later if you still have time and energy. By keeping your to-do list realistic and manageable you'll build momentum and finish your day feeling good about what you have accomplished rather than feeling bad about what you haven't done.
Most people overestimate what they can do in one day but underestimate what they can do in a year.
Focus on your three Most Important Tasks (MITs) before allowing yourself to work on other tasks. We often want to start with the simple or the urgent. Start with the most important. If your tasks feel overwhelming, break them down even further. This is also where the two-hour rule helps. If a task will take longer than two hours to complete, divide it into smaller sub-tasks. 
6. Post Your Action-Items and Goals Where You'll See Them Regularly
Writing down your goals makes it much more likely you'll accomplish them. Posting them in a location where you'll see them frequently is a visual reminder to stay focused and on track. I write a list each week of the most important things I want to accomplish that week on a sticky note and place it on my computer.
7. Share Your Action Items with an Accountability Partner or Group
Accountability is the "secret sauce" to getting things done. For whatever reason we aren't as likely to keep a promise to ourselves as we are to other people. Asha Dornfest, another WDS speaker said, "Each time you keep a promise to yourself it is like a bicep curl for building your willpower."
Work your willpower muscles regularly. Make keeping your word to yourself as important as keeping your word to others. Show up for yourself. Show up for your dreams. Self-confidence grows every time you keep your word to yourself.
I'm such a believer in accountability groups I created the Big Life Accountability Support Team (BLAST) group program. Each week we meet via videoconference to learn specific techniques and tricks to stay on track with our goals. Then we share what we accomplished, what we weren't able to accomplish, what worked and didn't work, what insights we had and brainstorm ways to overcome obstacles. We achieve phenomenal results but more importantly we inspire one another (if she can do it, I can do it), build confidence, and learn to be more kind and compassionate towards ourselves. Sign up here to be an insider and be the first to learn about the next BLAST group.
Here are some key points to consider when starting your own accountability group.
When I shared my dream of having a tiny house in Talkeetna, I wasn't sure how I was going to make it work. I felt scared to announce it to the world. What if it didn't work? I still wasn't sure how it was going to work but I kept taking action. Consistent action yields phenomenal results.
Months later, I've got only a few more action items: do the final inspection on the property, sign the closing paperwork, and celebrate. My dream is coming true! I'm already planning my first gathering on the property. I'm calling it a Closing and Clearing Party. It's BYOC: bring your own chainsaw. I'd love for you to join us (virtually or in person)! Here's the view of Denali I'll have from the property: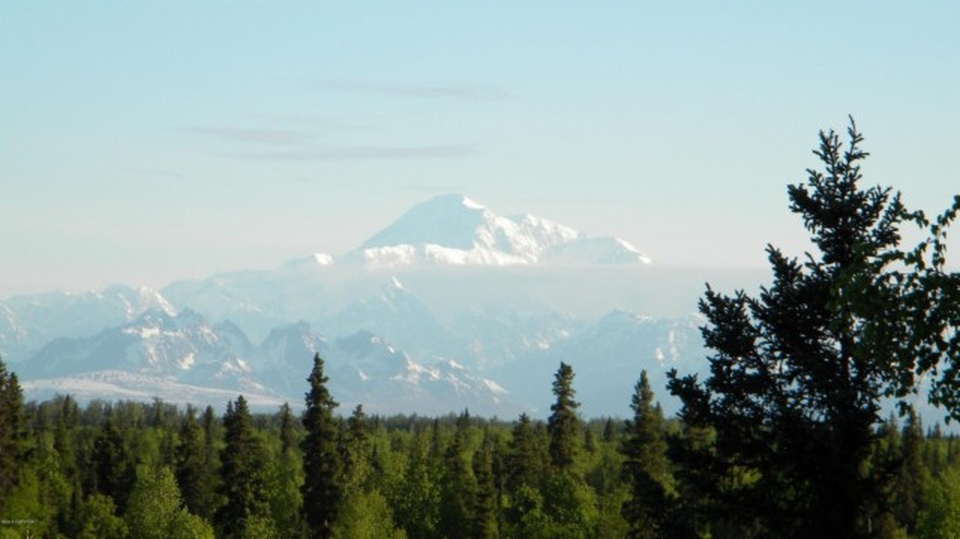 Writing down your goals and action steps, posting them where you'll see them frequently, and sharing them publicly to hold yourself accountable will allow you to craft a life you love. I'm right here cheering you along the way. I know you can do it.
What are some things you'd like to add into your life? What are some things you'd take out? What would you like to be held accountable for? Share in the comments.